SN HERBALS
Regular price
Rs. 140.00
Sale price
Rs. 126.00
Unit price
per
Sale
Sold out
Pradrantak Lauh is a Lauha Kalp of Ayurvedic medicine made for the treatment of menorrhagia, metrorrhagia, leucorrhea, etc.
Lauha kalp is defined as preparations of Lauha Bhasma as the main ingredient added to other drugs. It is helpful in Digestive impairment, Anaemia, and Excessive vaginal discharge too.
Share
View full details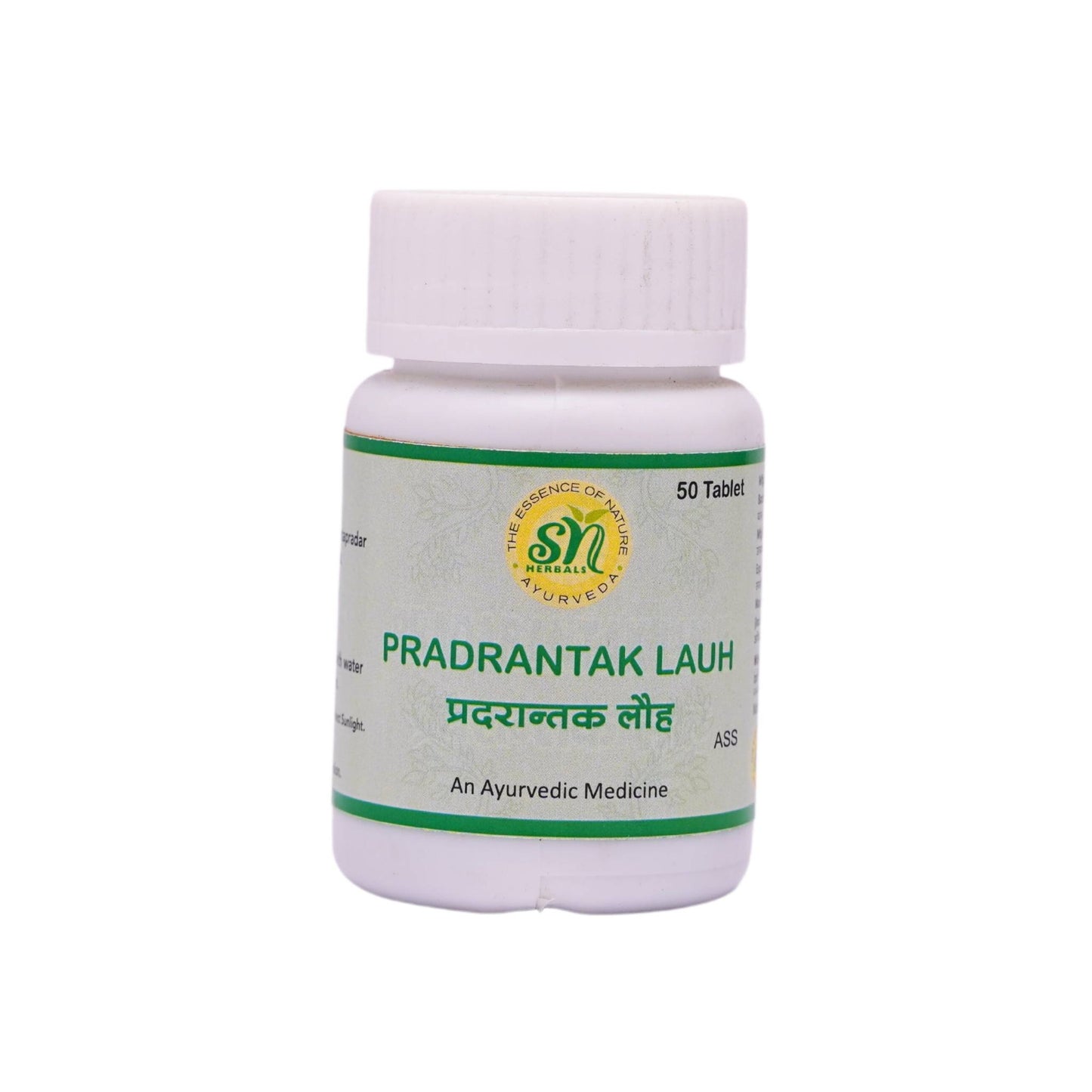 Let's get into the nitty gritty details.
Key Ingredients

Lauha bhasma
Tamra bhasma
Haritala bhasma
Vanga bhasma
Abhraka bhasma
Kapardika bhasma
Sunthi
Maricha
Pippali
Haritaki
Key Benefits

Pradrantak Lauh is used in the treatment of menorrhagia, metrorrhagia, leucorrhea, etc.
It is also used in the treatment of Digestive impairment, Gastric ulcer/Duodenal ulcer, Anaemia, Asthma, Cough, Emaciation, and Weakness.
This medicine is also helpful in cases of Excessive vaginal discharge, Pelvic pain, Lower backache, Pain in the female genital tract, and Tastelessness.
Directions For Use

1-2 tablets twice a day, with or without meals, or as recommended by an ayurvedic physician.
Safety Information

Read the label carefully before use.
Keep out of reach of the children.
Store away from direct sunlight in a cool and dry area.

 
WHY CHOOSE SN HERBALS?
Natural ingredients that work.

Clinically tested , natural ingredients.

Fast, free shipping across country.

We offer fast, free shipping on all orders over ₹999.

More than 500 5-star reviews.

Our customers love us! Try our products and you'll see why.

Quality products at a fair price.

All of our products are 100% Ayurvedic and does not contain any harmful chemicals.